FCH Help
General Information
FCH has been created as a Fencing Club Managing program by Michael Hansen, Taastrup Fencing Club, Denmark.
It is currently oriented towards smaller clubs, with limited number of members.
New features can be requested or bugs reported at fch@epee.dk.
Home
The first page can see slightly different out, depending on your access rights in the system.
All users have access to their own person data (Your data), and the possibility to enter information about fencing opponents.
Below that is a table that displays either information about all clubs you are member in (if default user), or all the clubs you are some kind of administrator/coach for.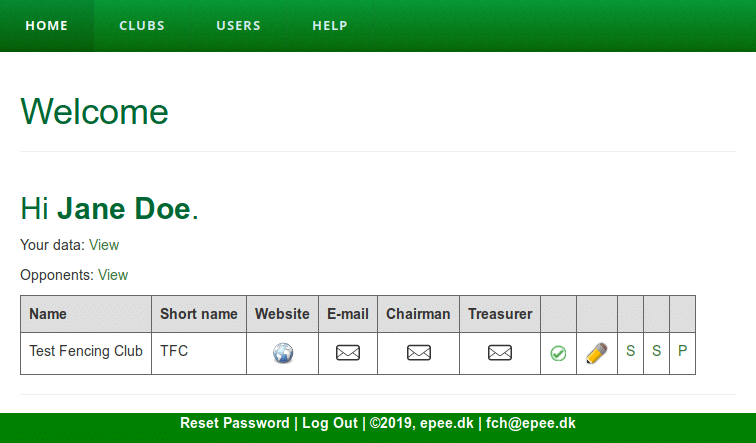 If you have club administrator/coach/board member access you will have some options besides seeing the club emails/websites.
The green checkbox goes to a page where you can register members are present any given day, and/or if they gets lessons.
The pencil gives access to the club edit page.
The "s" marks statistics. Displaying number of members present on given days, or view of all fencers and their appearance/lessons for the past months.
The "p" is for club fee lists.
Club
These page is where you update information about your club(s).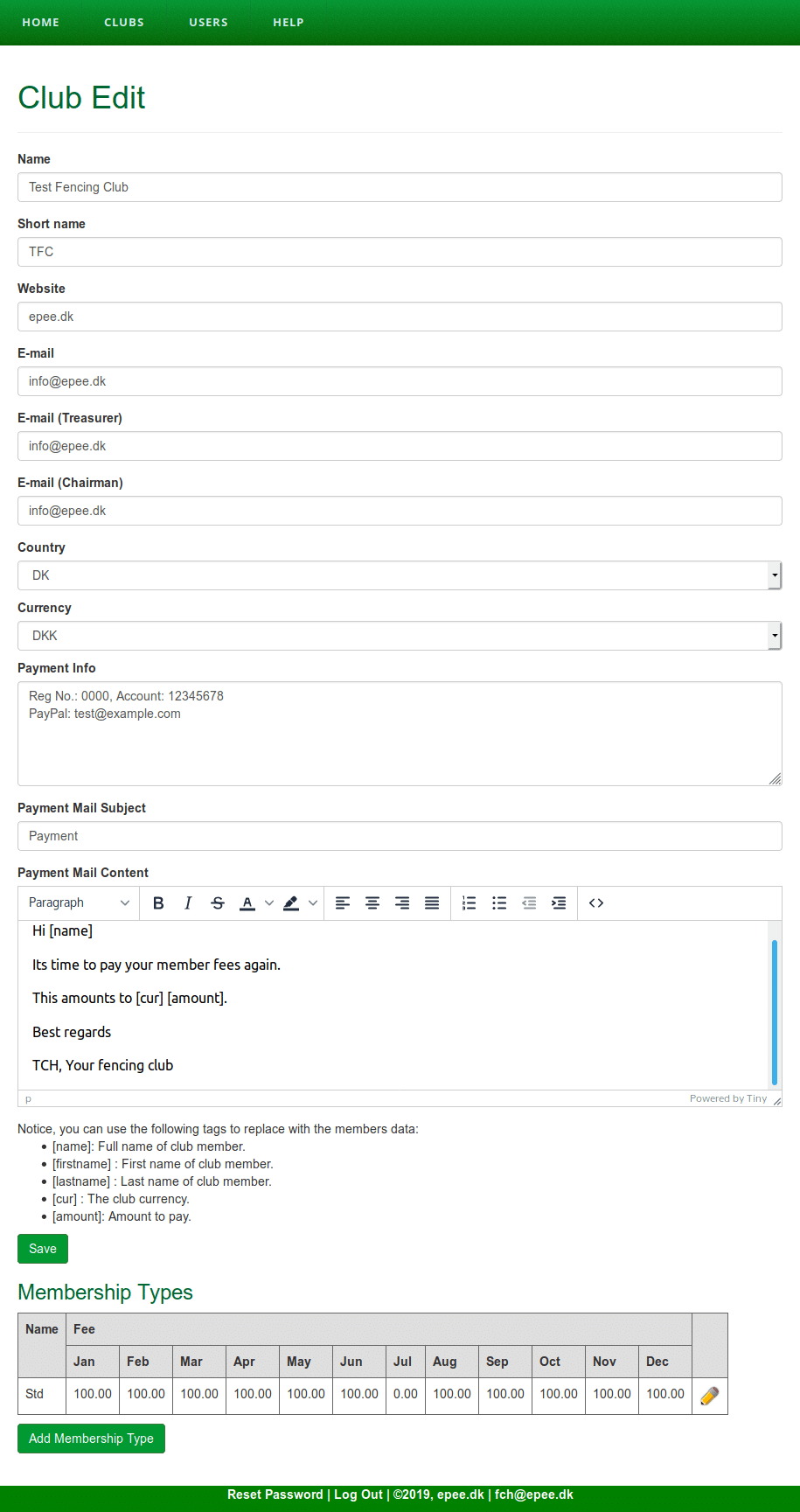 The club edit page contains basic club information on the top, such as the club name, short form of the name, website URL, e-mails for the club/chairman/treasurer.
Further down on the edit page is also payment info, that will be available to any default member. Also you can create a standard fee payment mail template, that will be used if you try to send mail to your members from the payment pages ("p" on the home page).
On the bottom of the edit page, you can add/edit membership types. These can be used for generating payment mails.
Person
Users
Any person in the FCH system can become a user with a user name and a password.
There are 5 types of FCH users with different access rights:
Default: Standard user with very limited access, and view.
Club Coach: Can see all members of the clubs the user has access to.
Club Board: Can see/change all club information.
Club Administrator: Can see and change all club information and all information about club members.
System Administrator: Allows access to everything in the system.
If the club administrator grants someone else club access, they will by default be upgraded to the Club Coach, if they are currently Default user.
If someone looses access to any club, they will be changed to the Default role.